곧 설립 6주년을 맞이하는 뉴욕시 비영리 문화예술단체, 뉴욕 한인 예술인 연합(이하 Korean Association of New York Artists | KANA)에서 2016년 처음 선보이며 성황리에 마친 한인 크리에이트 커뮤니티를 위한 네트워킹 소셜 이벤트 가 두번째로 개최됩니다.

다가오는 11월 11일(토)에 열리는 본 행사는 세계 문화예술의 중심 뉴욕을 기반으로 하는 '시니어', '영 프로페셔널' 그리고 '학생'까지-- 각계 예술 분야 속 다양한 연령대의 뉴욕 한인 크레이티브가 함께 어우러져 서로의 비전을 공유하고 소통하는 최대의 교류의 장이 될 것입니다. 여러분의 많은 관심과 참여 부탁드립니다.

Calling all Korean creatives in NYC to come out, network, and party with KANA!
We cordially invite you to the KANA Creative Nexus on Saturday, November 11th, 2017.

As we strive to empower the Korean creative community, we will be presenting an open platform where professionals from various art and design industries are encouraged to network and discuss challenges, with the support of creative leaders. It is only through your generous commitment that we can fulfill this vision to empower the creative community.

Learn the skills to become an influential creative in today's world. Hear distinguished panelists speak about their personal experiences. Ask questions about how to perform under pressure, make decisions effectively, and break through the glass ceiling.
Guest Speakers and Opening Performance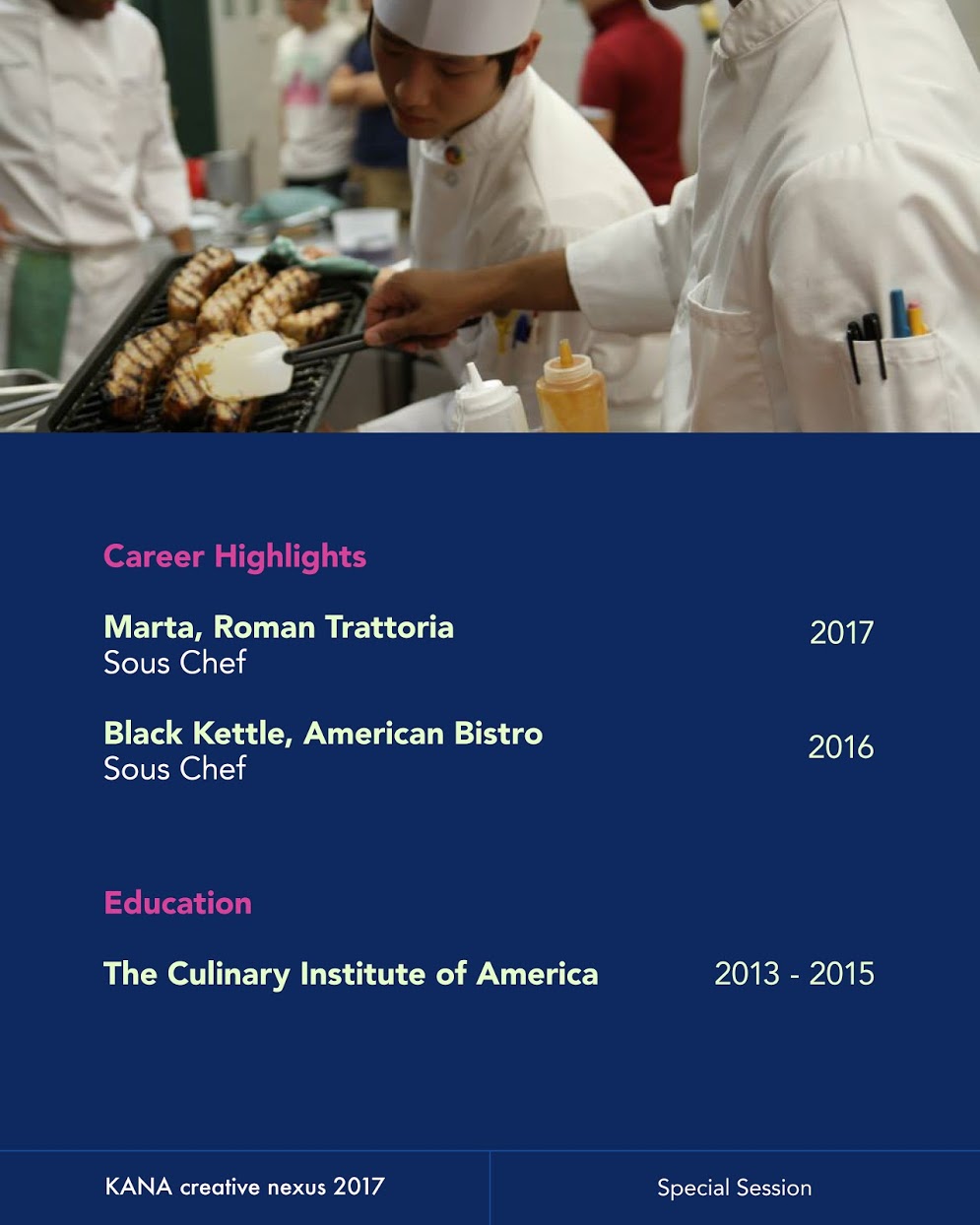 Hors d'oeuvres by KANA Culinary Team
VIP 티켓을 소지하신 분들만이 가질 수 있는 특별한 다섯 가지 혜택!
다양한 예술 분야의 디렉터분들과 네트워킹을 할 수 있는 기회
VIP를 위한 스페셜 칵테일 테이스팅
VIP Special Gift - 직접 오셔서 확인하세요!
제대로 된 프로필 사진이 필요하신가요? 프로필 무료촬영!
2018년 KANA와 함께 이벤트 콜라보 - VIP로 오신 디렉터분들과 함께 KANA의 2018년 이벤트를 제안하고, KANA와 함께 콜라보를 할 특별한 기회!
EVENT TIME TABLE
4:00 pm VIP 입장
4:00 pm - 5:30 pm VIP 리셉션
5:30 pm - 6:00 pm General Admission 입장
카나 요리팀에서 준비한 다채로운 음식 시연
빼빼로 증정!
6:00 pm - 6:30 pm 축사 및 인사말, VIP 및 스피커 소개, 라이브 공연
Joon Park, CCO at Firstborn
김기환 총영사님
6:30 pm - 8:20 pm Creative Nexus Begins
20-30분 렉처 + Q&A + 네트워킹세션
Diana Hong-Elsey - Creative VP at MAC Cosmetics
Min Kim - Sous Chef at Marta
Han Lee - Media Artist, Creative Director at Breezebegan
8:20 pm - 8:30 pm 경품 추첨
8:30 pm - 9:00 pm 클로징
SATURDAY, Nov 11
5:30 pm - 9:00 pm
VIP Reception: 4:00 pm
More Info: kana.creative.nexus@gmail.com
 
HIGHLIGHTS & BEHIND THE SCENES
Videographer Jinhee Yoo / Assistant Videographer Sehwan Han / Editor Jinhee Yoo / Creative Direction Jieun Yoon, Angela Hyewon Kim
Music Longing - Joakim Karud / Copyright © 2018 KANA. All Rights Reserved.